Online Product Configurators: Smooth Digital Transformation in the Times of Crisis
E-commerce market is getting more attention than ever. It's time for online product configurators.
Online business on the rise
Due to the current coronavirus pandemic many businesses worldwide are on total lockdown, or at least a partial hold. Shopping centres and stores are closed, while customers are advised to stay at home. As a result, the e-commerce market is now getting more attention than ever, especially from companies which were reluctant to enter this sales channel before.
In normal circumstances, digital transformation takes some time and more often than not requires at least months of planning. However, the situation right now, is nothing but normal and actually forces businesses to act fast and adapt, or give up and go bankrupt.
Of course, sales strategies for attracting online buyers differ from traditional brick-and-mortars but one thing remains unchanged: customers like their products personalised.That's where online product configurators come in handy.
Boost your e-commerce game
Photorealistic 3D configurators on your website invite customers to play with the product. Users can personalise the item according to their individual preferences, and see the results in real time on the screen.
So while for clients such a product configurator can be a trigger for making a purchase decision, the online store has a chance to make higher revenue and also get unique insights into the actual market needs. Because, apart from product visualisation, the configurator may include an intelligent tracking system and order management. Thus, online stores can analyse which product versions are more popular and stock up accordingly.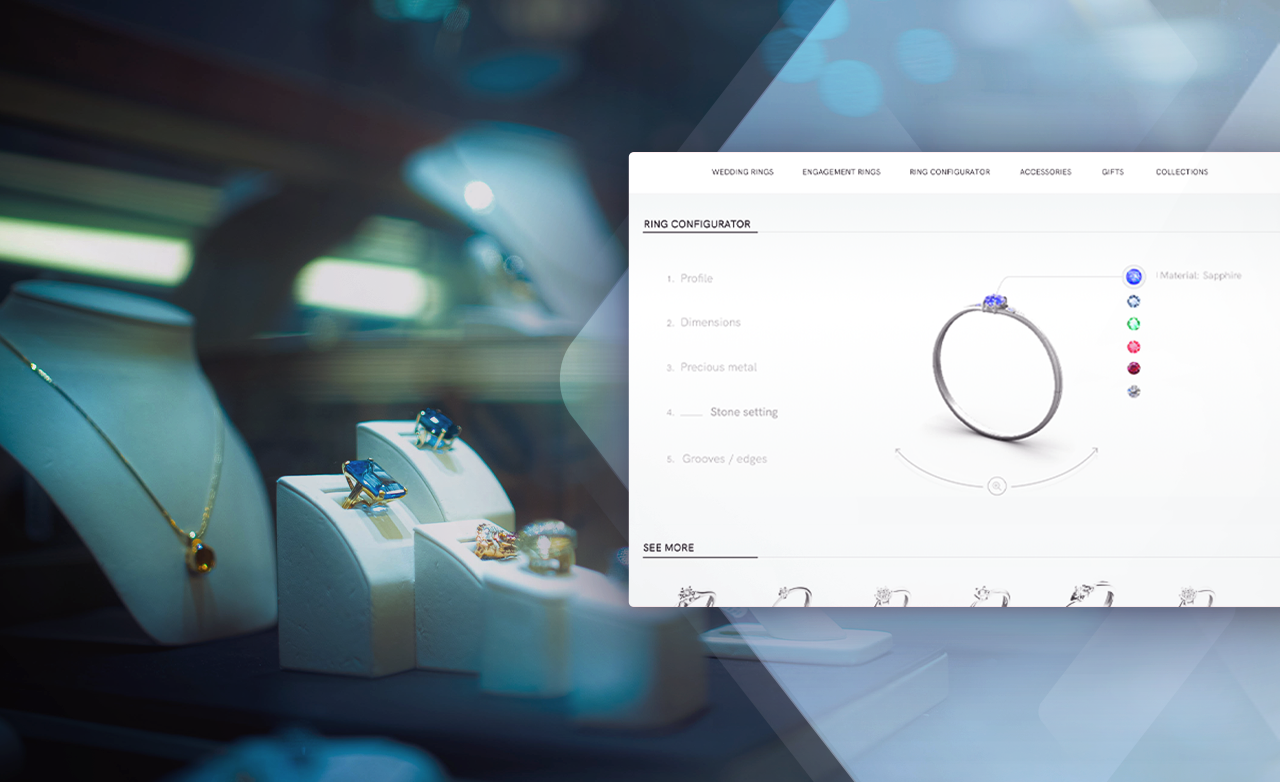 Not your ordinary online shopping experience
Online configurators have been around for some time now, and when people think of them, usually goods like customised cars first come to mind. But there are many other products that one can offer in personalised versions. We have already designed a door sign creator for our Norwegian client but let's perhaps take a closer look at an example from the luxury category.
Our Jewellery Configurator enables customers to choose every detail of a ring before making an order. One can switch materials between gold, platinum or silver, select different gemstones and their sizes, as well as add personalised engravings, and view the ring from all angles.
Implement configurators without throwing out a fortune
As shown, thanks to 3D product configurators, goods that are traditionally offered in stores can easily be available online with a range of customisation features. Configurators work in web browsers and may be integrated with existing websites to meet the needs of every company or brand.
Development usually takes up to a few weeks. Various settlement models are possible, including subscription or usage fee, so most definitely you won't spend a fortune. Interested in a configurator for your business? See more examples on our webpage and get in touch!